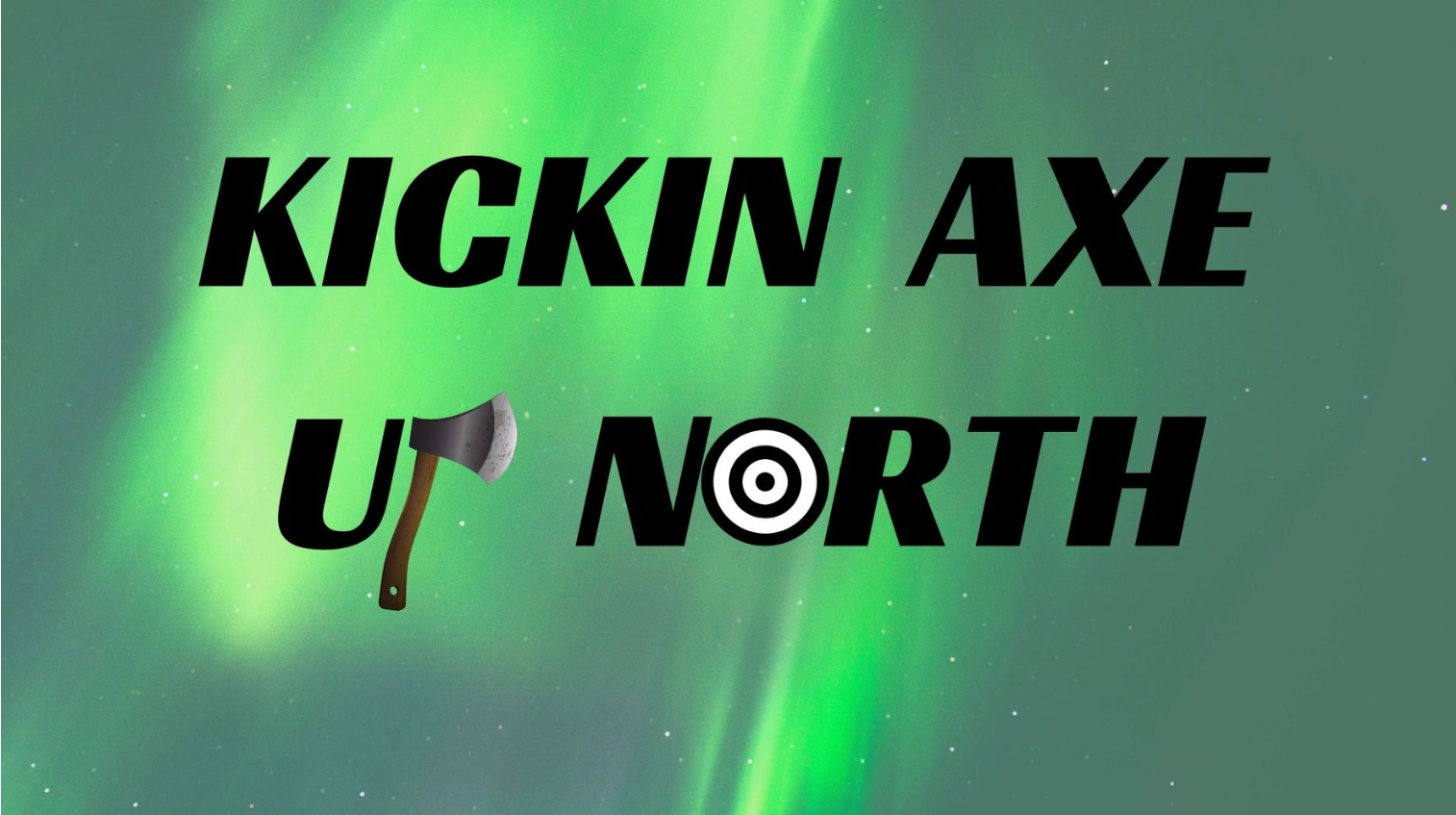 What is Kickin Axe?
A  new form of immersive entertainment aiming to bring fun and excitement to the great north woods of Wisconsin. Live out your lumberjack dreams and have a kick axe time mastering the way of the Axepert!
Each axe throwing session lasts 1 hour.  It is up to your group what is done with that time.  We have organized games for you to try with your group, or if you'd rather just throw axes at your own pace and burn off some steam, you are welcome to do that too.
Our friendly and knowledgeable axeperts will provide each group with a safety tutorial and demonstrate proper axe throwing techniques to ensure that each participant gets the most  of their axe-perience.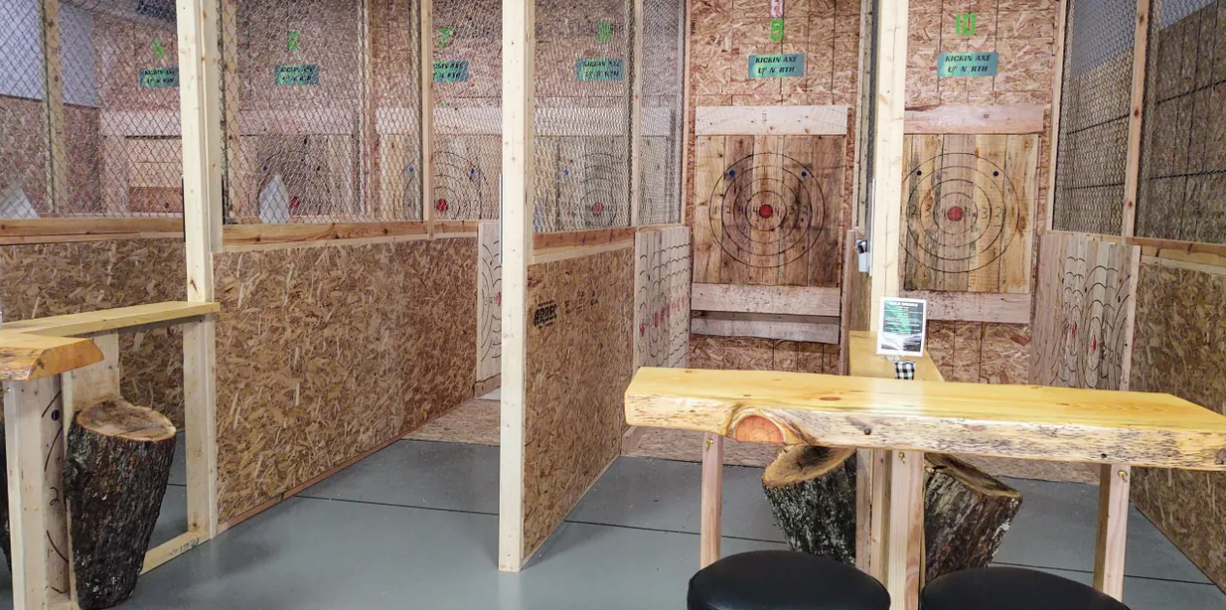 Save time and fill out our waiver online
Cancelled bookings past 3 hrs before appointment are non-refundable but available for rescheduling.
What does it Cost?
1 hour, $20 per person  
We also offer 5 and 10 session packages, each session in the package must be used  by the same individual.
5-pack – $100, 5 sessions plus 1 free 10-pack  $200, 10 sessions plus 1 free
Is this safe to do?
YES!  We have axeperts here that are trained on not only the safety procedures but on how to teach you to throw so that you not only are safe but landing that bullseye in no time!
What ages can participate?
For our facility anyone can do this!  However, if under 18 years old there needs to be a parent/guardian with them at all times.
What should i wear?
The only requirement we have is that you wear closed toed shoes.  People should also wear comfortable clothing, in layers, as participants tend to get warm as they throw and want to start removing layers.
We also recommend that participants wear plaid, as science has proven that wearing plaid makes you a better axe thrower.
Group Events welcome
Ax-throwing is for group events, like bachelorette and bachelor parties and corporate retreats. ("Nothing like working out those workflow kinks with some ax-throwing," ) Ax-throwing is also perfect for anyone looking for a new indoor group hobby
Do we need reservations
Reservations are always a good idea!!! we wouldn't want someone to make a trip and not be able to throw. Walk-ins are welcome during our regular operating hours. 
Scheduled sessions will always take priority, then walk-in traffic is on a first come, first serve basis.
HOUSE RULES
Waiver And Clothing
All players/participants must read and sign the waiver, Closed-toed shoes are also required.
It's Axe Throwing, Not Axe Catching
DO NOT TRY TO CATCH AN AXE! If an axe bounces back from a target, quickly step backward and to the side in your lane. DO NOT point or gesture with the axe, ANY MISHANDLING OF AN AXE OR HORSEPLAY WILL NOT BE TOLERATED AND WILL RESULT IN YOUR REMOVAL FROM THE ACTIVITY!
Stay In Safety Areas
There is only one person in a lane at any time. Do not enter a lane until it is completely cleared. When entering a lane, step directly into your lane, do not wander into another players area. If you are not throwing, you must remain 5 ft behind the thrower at all times.
One Axe At A time
Only one axe is thrown at a time in each lane. Whether it sticks or not, retrieve the axe that is thrown before starting another turn.
No Axes Outside The Fenced lane
Do not remove an axe from the throwing area. All axes must remain in the fenced lane area at all times.
Don't Touch The Fence
Do not touch or grab the fence, either in the spectator area, or especially when picking up an axe off the ground.
Don't Hand Off An Axe
Handing off an axe might take your hand off! Do not hand another player an axe. When done throwing, replace your axe in the wood stump and exit the area. The next player can then select their own axe when entering.
If You See Something, Say Something
Please let us know if you need a board replaced, or if you notice any damage to an axe. We want you to have the best experience possible, and want to provide the equipment and environment to do so.
Gift Cards
Send a gift card to friends and family or buy it now for your future use.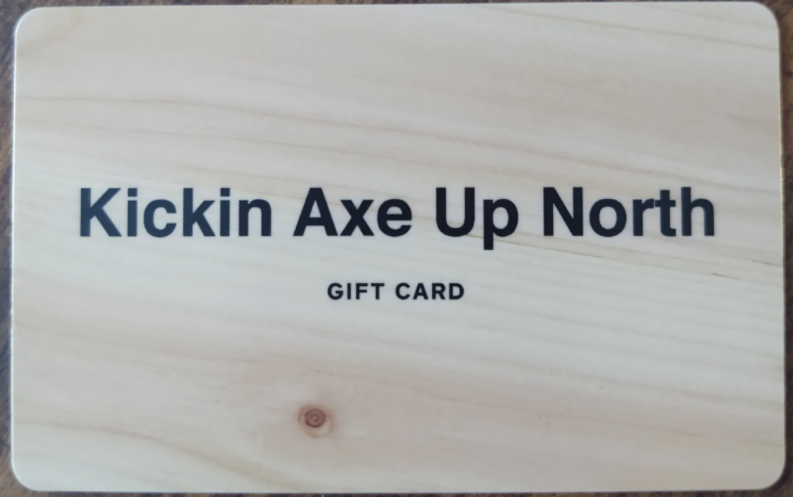 Cold Drinks Available for Purchase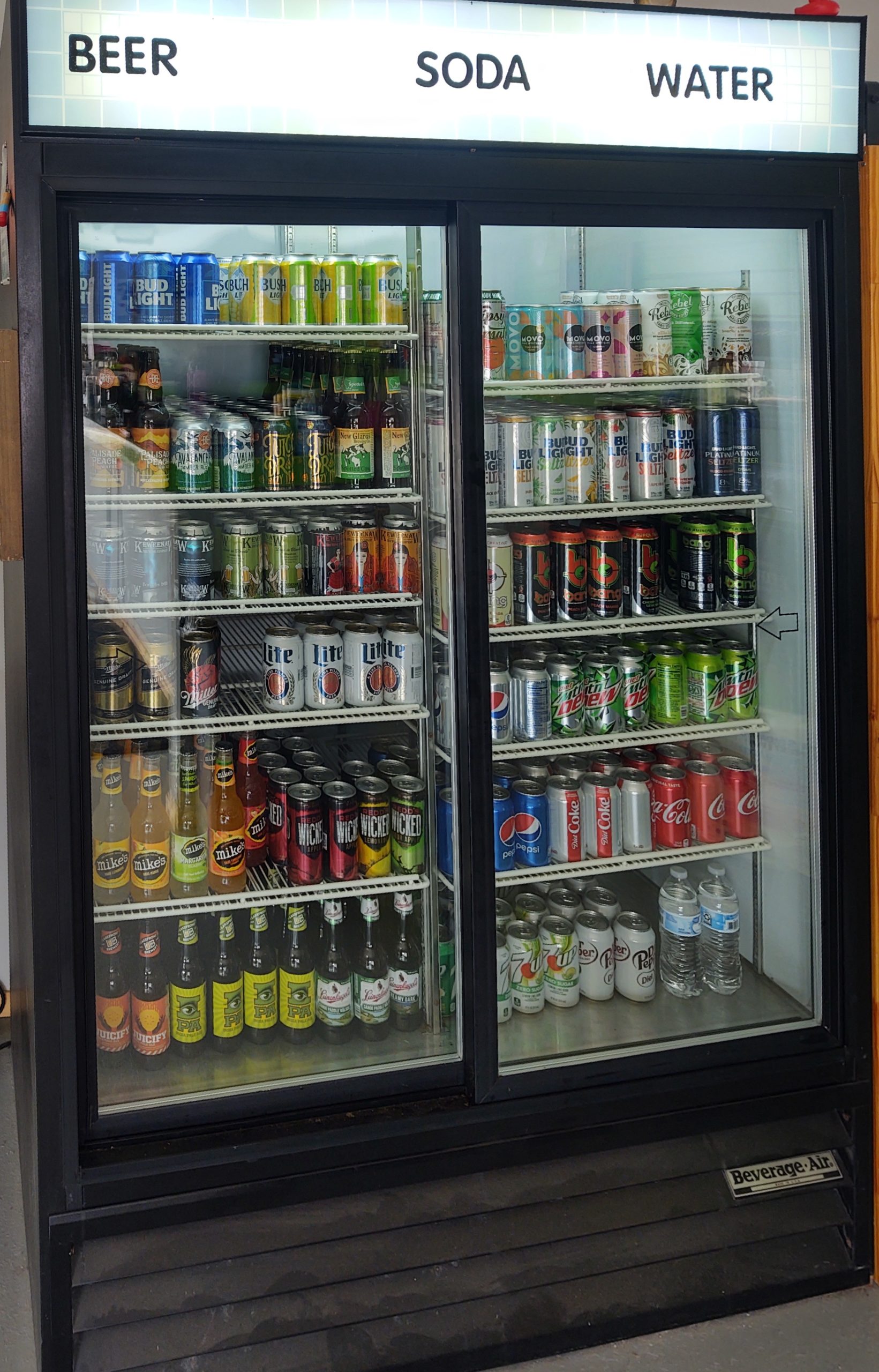 Hours of Operation
Thursday/ 3:00 PM – 7:00 PM
Friday/ 2:00 PM – 9:00 PM
Saturday/

11:00 AM – 9:00 PM
Find us
1161 HWY 45 S, Eagle River, Wisconsin 54521